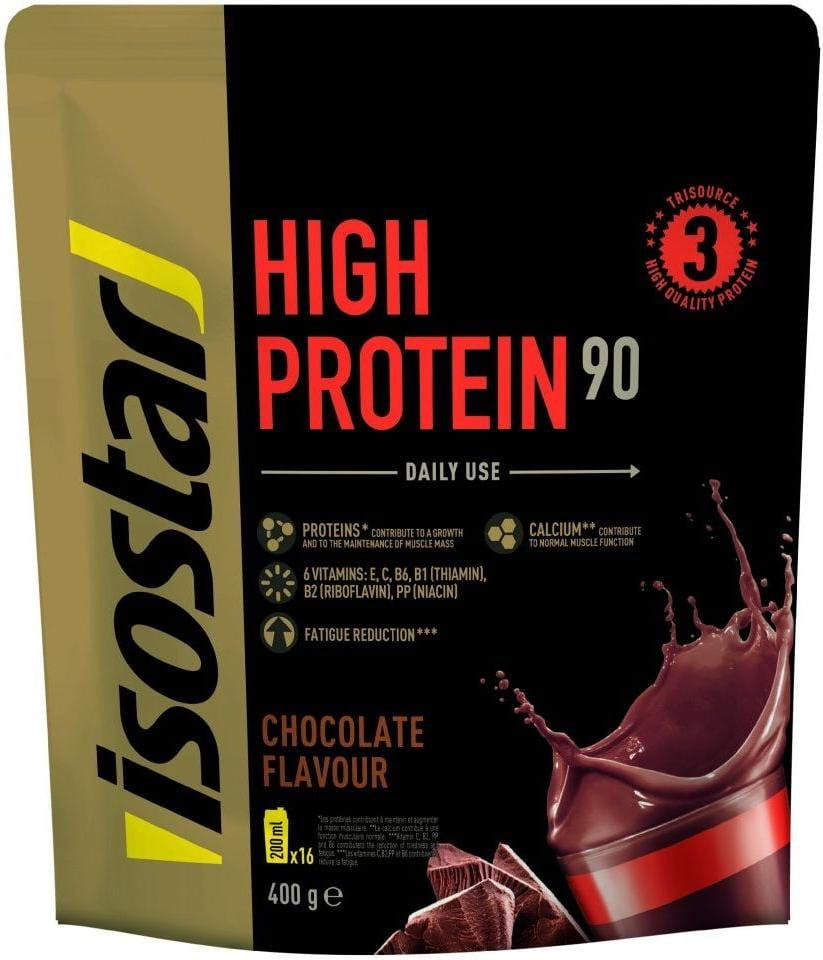 Product number: N164
Manufacturer: Isostar
Sex: unisex
Color: black
Warranty:2 years
Isostar High Protein 90 Chocolate
Isostar High Protein 90 chocolate powder is for the preparation of a high-protein energy drink. A source of 6 vitamins and calcium with magnesium. A protein-rich composition with biological value.
Recommended use:
Mix 4 scoops (25g) in 175ml of water until the powder is completely dissolved. If you mix 4 scoops (25g) of the powdered milk powder, the dose will contain 6g more protein and the drink will be more creamy.

Maximum recommended daily dose = 100g (4 doses)

Do not exceed the recommended daily dosage

An essential part is the intake of a balanced and varied diet with a healthy lifestyle

Store in a dry place

Production batch: listed below the barcode

Minimum shelf life: indicated below the bar code on the side of the product

Keep out of the reach of children
Nutritional composition:
Amount in 100 g
Energy value: 1569 kJ / 370 kcal
Fats: 2,0 g
Saturated fatty acids: 0.9 g
Carbohydrates: 5,7 g
Sugars: 1,3 g
Protein: 81 g
Salt: 0,64 g
Vitamin E: 15 mg (125%**)
Vitamin C: 107 mg (134%**)
Vitamin B1 (thiamine): 1,4 mg (127%**)
Vitamin B2 (riboflavin): 1,8 mg (129%**)
Vitamin PP (niacin): 17 mg (106%**)
Vitamin B: 62,2 mg (157%**)
Calcium: 809 mg (101% **)
Magnesium: 284 mg (76% **)
Ingredients: Milk proteins (milk caseinates, whey proteins), wheat protein, soy protein isolate (emulsifier: soy lecithin), defatted cocoa (7%), aroma (dye E150c), magnesium carbonate, sweeteners: aspartame and acesulfame K, vitamins E, PP, B6, B2 and B1, emulsifier: sunflower lecithin. Contains a source of phenylalanine.