We bring you 2 tested tips for the best healthy sweets and a gluten-free, lactose-free alternative of the banana sandwich. These are tested recipes directly from members of the Top4Fitness team!
Christmas Date Balls
From: Petra Stegemann, Customer Care Top4Fitness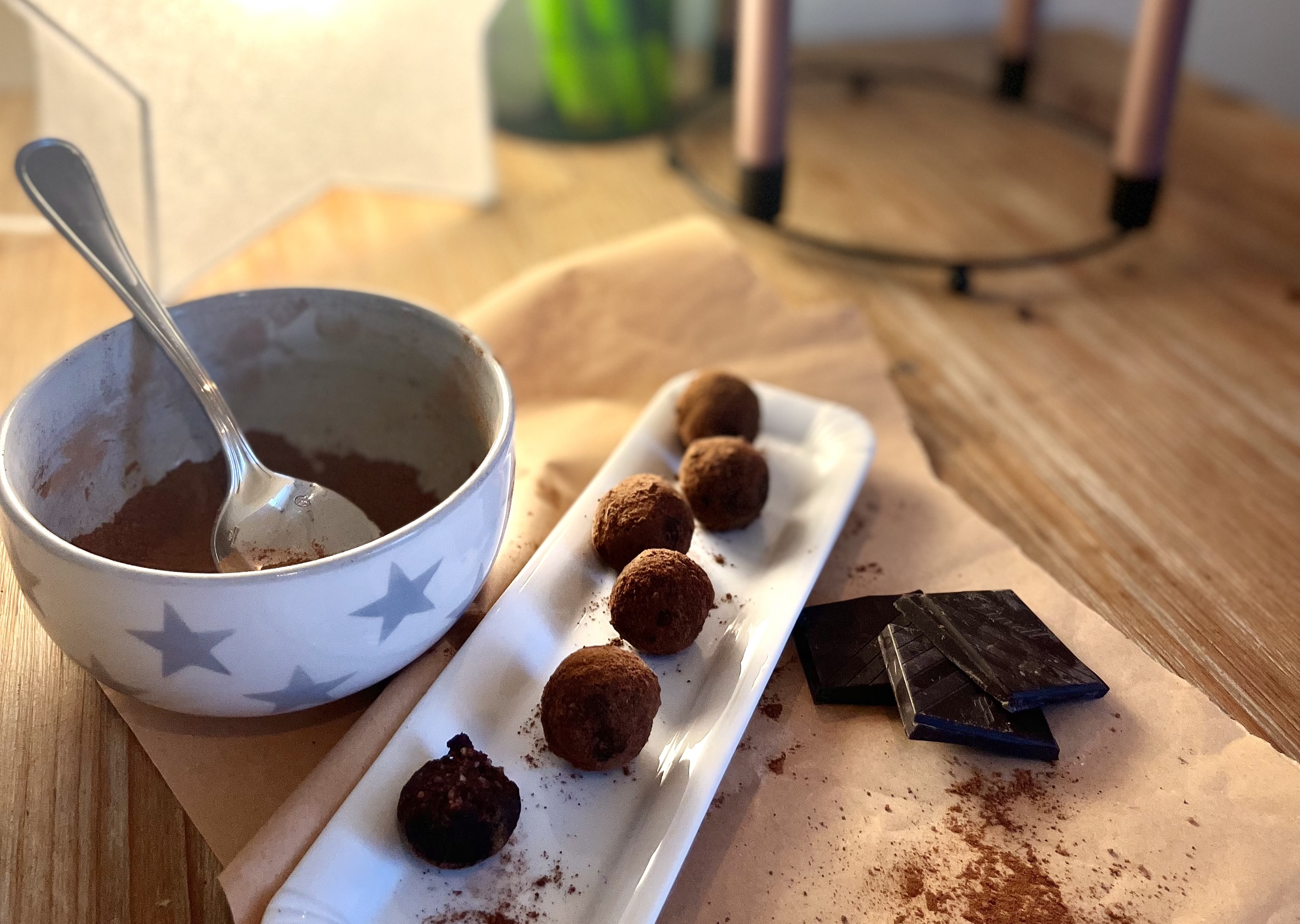 Date baking is common in almost every fitness kitchen. You can also prepare countless variants of home-made fitness cookies from dates. Try a tip for crispy cocoa balls from Petra.
Ingredients for balls:
140 g dates (soaked in hot water)
100 g almonds
30 g pecans
2 tbl.spoons cocoa butter
1 teaspoon ground cinnamon
1/4 teaspoon ground nutmeg
1/4 teaspoon ground cloves
1/8 teaspoon ground ginger
pieces of dark chocolate
Wrapping ingredients
1 tbl.spoon ground cinnamon
1 tbl.spoon cocoa powder
1 tbl.spoon brown cane sugar (can be omitted but will add a nice crunch)
Directions:
In a blender, chop almonds and pecans. Add dripped, de-pitted dates, cocoa and spices. Mix everything well and mix it so that the mass holds together nicely. We can add chopped dark chocolate ... but it has to be very high percentage so it doesn't start to melt when rolling. From the mass, we create about 1.5 - 2 cm large balls, which we roll in a powder of cinnamon, cocoa and sugar. They taste great while watching Christmas movies.
Fitness Gingerbread
From: Andrea Skolková, Brand Manager Top4Fitness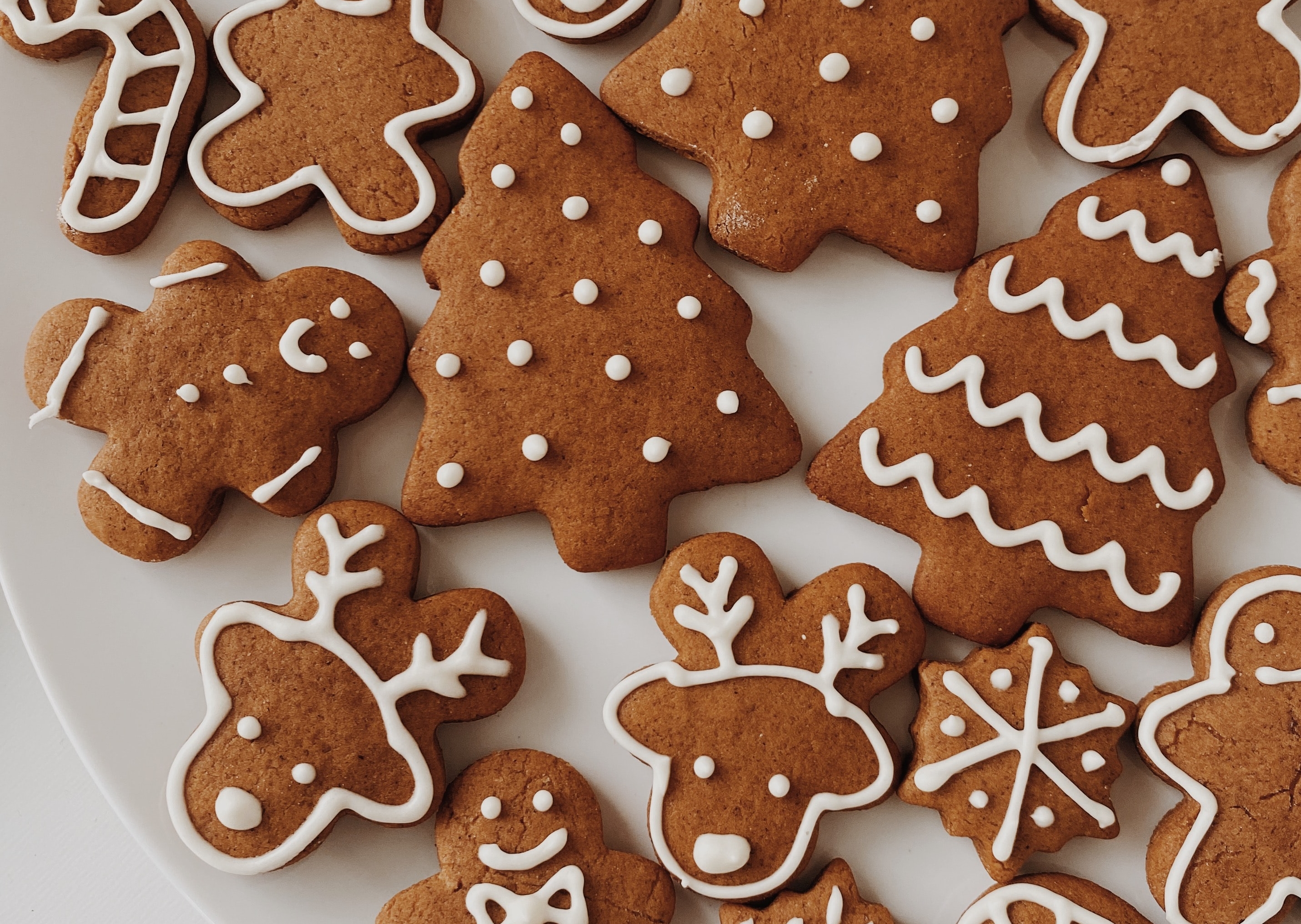 Gingerbread cookies are a Christmas must-have. Do you know that you can also prepare them in a light variant, without even being able to recognize the reduced number of calories and sugar at all?
Gingerbread ingredients:
130 g flour (spelled or rye)
15 g vanilla protein
50 g ground oatmeal
50 g ground walnuts
1x whole egg + 2x yolk ( you can use the whites for icing)
3 tbl.spoons honey (approx. 105 g)
1x gingerbread baking powder (12 g)
Topping ingredients:
2 egg whites
4 teaspoons lemon juice
alternative: powder sweetener (xylitol etc.)
Directions:
Mix flour, protein, ground oatmeal, ground walnuts, one whole egg, honey and baking powder. Make a dough, which we roll out on a plate about 0.5 cm thick. Cut the gingerbread from the dough and place on a baking sheet lined with baking paper. Brush the gingerbread with yolk and bake at 185°C for 12 minutes. Decorate chilled gingerbread with an icing made of egg whites, lemon juice and sweetener.
Gluten-free, Lactose-free Banana Bread
From: Linda Macáková, Marketing Executive Top4Fitness
A Christmas morning without christmas cake, due to a gluten-free or lactose-free intolerance is a pain. Our Linda, who has cleverly overcame the problem, prepares a simple gluten-free, lactose-free Banana Bread for Christmas instead of christmas cake. The recipe is cup-shaped, so you don't even need a kitchen scale.
Ingredients for banana bread:
3 bananas
1/3 cup of lactose-free coconut oil or butter
2 eggs
1/3 cup of honey or maple syrup
1 teaspoon of vanilla extract (may be replaced with a pinch of vanilla sugar)
1+1/3 cups of almond flour
1/3 cup of oatmeal
1/3 cup of tapioca flour
1 teaspoon of cinnamon
1 teaspoon of salt
1 teaspoon of baking powder
2/3 cup of sliced walnuts
Directions:
In a large bowl, mix lactose-free coconut oil / butter, honey, eggs, vanilla. Add the mashed bananas. Then, add all the dry ingredients to the mixture and mix until a dough is formed. Finally, mix the nuts/chocolate into the dough and pour it into a mold lined with baking paper. We can decorate the bread with slices of banana or nuts/chocolate chips. Bake in an oven preheated to 180 ° C for 50-55 minutes. Banana Bread is great on its' own or with lactose-free butter.
Enjoy!