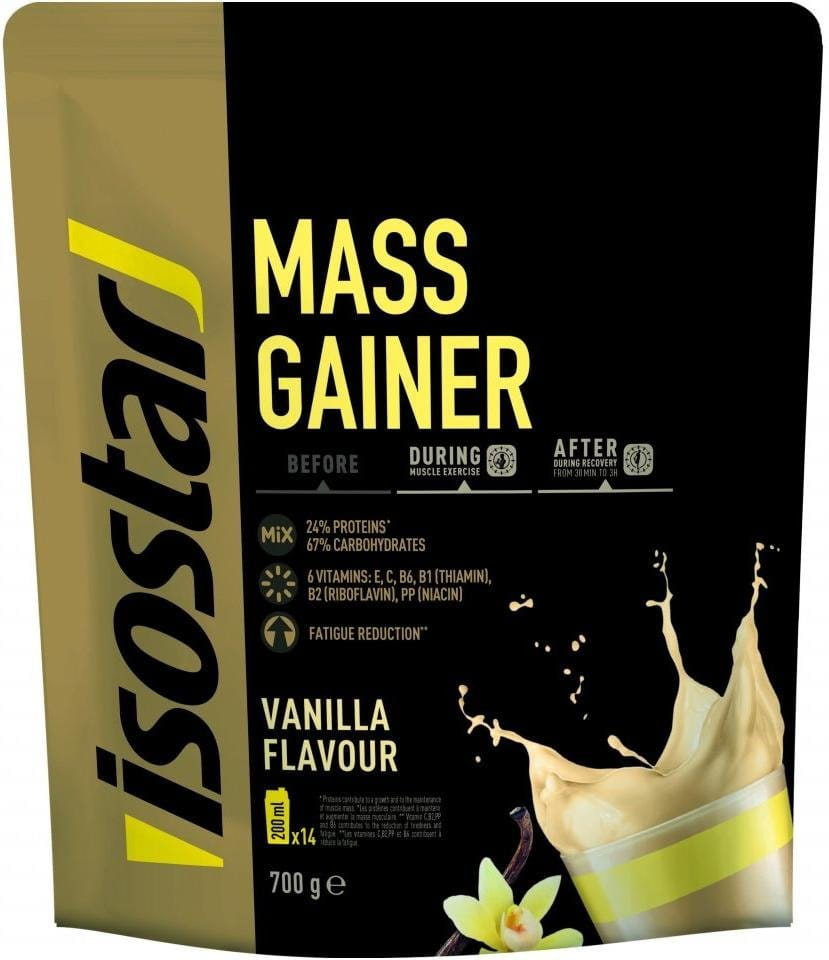 Product number: N168
Manufacturer: Isostar
Sex: unisex
Color: black
Warranty:2 years
Isostar MASS GAINER
Isostar MASS GAINER Vanilla 700g powdered drink is a high-performance fitness drink with concentrated proteins, a source of calcium and vitamins B1, B2, B6, PP, C and E. Optimized mixture of carbohydrates and rapid assimilation of the protein mix. Recommended for sports that require short, repeated exertion and body strengthening.
Recommended use:
Dissolve 4 tablespoons of powder (= 25 g) in 200 ml of water or milk

1 -3 doses throughout the day.

To maintain intense muscle performance, we recommend a daily dose of 1 to 3 servings of drink (0.2 to 0.6 g protein / kg) body weight) and a lot of liquids.

Do not exceed the recommended daily dosage.

Intended for consumption during increased muscle performance.

During or after training

An essential part is the intake of a balanced and varied diet and adherence to the principles of a healthy lifestyle.

Suitable for physical activities with repeated stress

Suitable for longer physical activities

Store the prepared drink in a cool place and consume it immediately
Nutrition indicators:
Quanity in 100 grams
Energy value 1555 kJ / 366 kcal
Fats 0,4 g
Saturated fatty acids 0,2 g
Carbohydrates 67 g
Sugars 49 g
Protein 24 g
Salt 0,60 g
Vitamin E 9,3 mg (78%*)
Vitamin C 62 mg (78%*)
Vitamin B1 0,89 mg (81%*)
Vitamin B2 1,7 mg (121%*)
Vitamin PP (niacin) 13 mg (81%*)
Vitamin B6 1,3 mg (93%*)
Calcium 730 mg (91%*)
Magnesium 200 mg (53%*)
Ingredients: Skimmed milk powder, glucose syrup, sugar, hydrolysed wheat proteins, flavors, magnesium carbonate, vitamins: E, C, B2, B6 and PP, colorant: carotenoids.